July 4th, 2007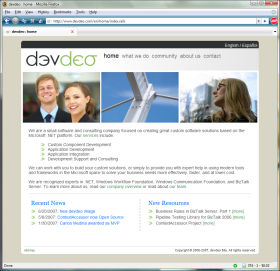 This past month of may, our company turned one year old. It's been a pretty interesting year with lots of new challenges and it's been a big learning experience for me, in more ways than one. I'd like to thank all the people that have trusted in us and have allowed us to work with them, you've made it all possible!
As part of the "celebration", we've just released our redesigned corporate Web site, based on a cleaner layout, and simplified structure. While we still need to clean a few rough edges, we've very happy with the new look of the site, and I hope you like it as well. Do let us know your opinion!
I hope this next year brings us new and more interesting challenges than the one just past! We're also always looking out for new project opportunities, so if you, or anyone you know, is interested in the kind of work we do, please do contact us!
---
---